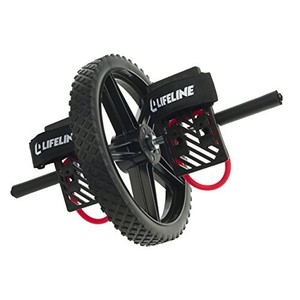 Spring is on the rise in a few weeks and the body will have had enough time to recover from winter. Beach Season is coming not too long after this so getting in shape is on a lot of people's priority. The most common place to get shaped is the Core Muscles. People like to see awesome looking abs and that trim waistline. Believe it or not a lot of those that have good looking abs are not that strong in that area. This is where I help you find a solution to not only get muscular abs but a crazy set to boot.
Crunches, sit-ups, ab machines and Insanity DVDs are the most common things those wishing to get abs flock to because they're either very easy or you just sweat out following someone. I'm here to tell you about the one device that can help develop really strong and muscular abs that takes the boring exercises out of the equation; one that I'm personally using myself to take off some fat especially in the lower areas plus the obliques. Just a few minutes with this bad boy and you'll see results quick.
It's called the
Power Wheel
. I've mentioned it in previous articles the most recent one being on legendary pro wrestler Bob Backlund using ab wheels to condition his abs and upper body. The reason why the Power Wheel is so effective its because you don't just have to use the handles to roll with but can also put your feet into the straps and do other exercises as well. Even the most simple exercises hit your Core hard and that's a good thing. Doing things that are too easy and in extreme reps won't give you true results. This wheel literally will tell you how balanced you are and that if you don't use the muscles needed for the exercise, you will lose balance. Learn them carefully and build a base. In my case, after a few rollouts I feel it immediately and I barely just get started. I'm seeing results within just the last 2-3 workouts, you don't get results that fast from doing boring crunches and sit-ups. The wheel makes you use every muscle just to balance on the damn thing.
You can't be loose when you use this thing, you have to flex every muscle and make yourself like a steel rod, if you're loose you'll know it right away. Less than 10 minutes of this a day and you'll have stronger abs in a matter of less than a few weeks; do it for 6 months and you'll have powerful abs you couldn't get in years prior. Check it out and for the Nutrition; keep a steady eating habit of real foods and less crap as possible. I even have some products you can look into that'll help trim your waistline awesomely.
Go after the
24-Day Challenge
and get free workouts and extra meal plans in the process; using this challenge along with the awesome stuff i'll send and combining these with the Power Wheel; you'll be unstoppable and nothing will stand in your way to get the best abs you can have. Lose weight, gain energy, relieve back pain and eat & drink like a champion. INVEST in your health and INVEST in the Power Wheel.