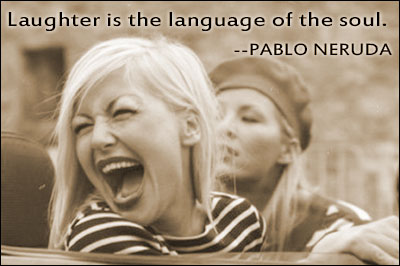 We have different types of humor we laugh on: some of it is witty, wicked, stupid, dark, sarcastic and just plain weird. I do have a few sides of humor and there many things that make me laugh out loud and hard to breathe. Laughter is something we all have in common, we end up laughing at something we find hilarious, some things are not funny like bullying a kid or poking fun at a traumatized individual but for the most part we find a way to laugh and feel alive. I have never had any major depression in my life, it's just not possible, sure I have shed a few tears and have been down but more sooner than later you'll find me laughing my ass off and just having a good time. It depends on what you're into but in the end, find a way to make yourself crack up. One of my ways to laugh is when something funny comes up in my head and I start laughing for like no reason, I have literally had people to tell me to stop laughing because they found it weird or they think it was about them or whatever. I can laugh practically at any time and at times for no reason but that's the beauty of life is when you can laugh just by your thoughts.
Giggling, blasting, can't breathe, chuckling; these are all things when laughing happens, it changes moments, it makes dull moments disappear when you end up laughing. It relieves depression in that very moment and it perks people up when you do it in the right moments when you least expect it. Some people just don't have a sense of humor which is sad (talk about oxymoron) because there's no emotional balance there and very little of life within your personality. Sure there are things that aren't funny but what's to stop you from finding what is and having a great time in those moments where it becomes a true test of our most sacred treasure; it isn't gold, silver, war, greed, that picture of Snow White in a sexy outfit that's the same color as her dress (now you got that stuck in your head) or The Beattles rocking it to Hokey Pokey (no wait that's AC/DC ); it's pure unadulterated laughter.
Now granted there are some places where laughing can be a bit rude and make you look like an ass say for a few examples:
A Dwarf couple getting married at Disneyland where Goofy marries them
During A Presidential Speech at the The Improv
At a police station where arrests are being made and the sirens sound like Lucile Ball
Daffy Ducks Funeral
Even at a Strongman event when a lifter is deadlifting 800 pounds of chocolate easter bunnies
Or when a family member has died in an area like at a hospital and his/her last words were "Did you fart?"
Sure these may sound funny but people expect you to be serious about that sort of thing because being on good behavior and controlling yourself is what we were taught to do as kids.
Laughter makes the he heart strong and vital (except if you were Mr. Dawes sr. the owner of the bank in Mary Poppins). Certain things just want to make you burst out and turning redder than Donald Ducks temper tantrum for me it's usually from Stand-Up Comics like George Carlin (Airport Pre-Boarding and Pre Skit), Robin Williams (Scottish GPS), Eddie Murphy (Impersonating Bill Cosby) and a few others plus things like Family Guy, Adam Sandler movies, Married With Children "I have an egg and some M&M's, I can make an omelet" "No thanks Peg I'm still pleasantly nauseas after last night's feast of the three-legged chicken." Certain lines or characters that just have a way of pouring out laughter kind of like a favorite line of mine from Spaceballs "What's the matter Colonel Sandurz..Chicken." Hey I rather die laughing than getting murdered by some asshole who's a fan of Charles Manson. I really don't believe you can live a full life without having some form of laughter or doing something positively fun and making joy out of something. Laughter is a sacred treasure that opens up the chest of the soul, it's not money or possessions or hell it isn't Weird Al doing a song based on Metallica's Master Of Puppets (I'd actually would like to hear that), it is within your being to laugh and feel empowered with love and happiness.