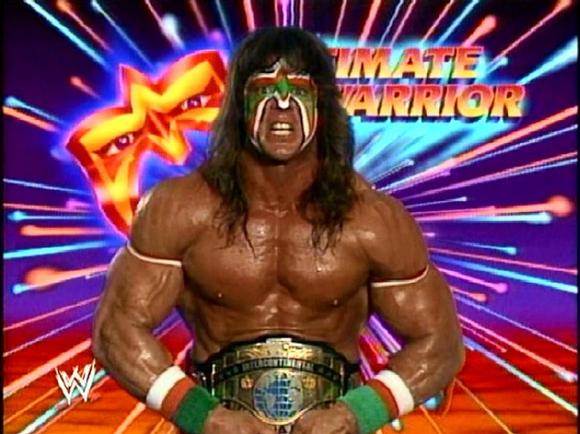 This past week, another WWE Legend passed away and that was of Jim Hellwig also known as The Ultimate Warrior. He died at the young age of 54 and pretty much said his final goodbyes at his Hall Of Fame induction and his speech on Monday Night Raw. I grew up in the Attitude Era of the late 90's and only saw Warrior's final matches in WWE first at Wrestlemania against Triple H and a couple other ones. I wasn't much of a fan and didn't really understand his character. Now that I took a look at his career watching his new DVD set and knowing what I know now from training, I admire the guy.
As a wrestling fan, my type of characters is the ones that are the in-ring technicians or guys who can wrestle more than just entertaining. I never really liked the muscle bound guys like Hulk Hogan or John Cena but I admire their intensity in the ring. Warrior was far from being a wrestler, he practically didn't know a wrist lock from a wrist watch but his character was unique, intense and just flat out nuts (watch his promos and you'll know what I mean. As an athlete and a Physical Culturist, I thrive at intense training and focused intention on what I'm doing. I'm not a fan of guys on roids but that's a different story.
The man literally changed his name to Warrior a little over 20 years ago and at first like everyone else who watched him, I thought he was off his rocker and was a total nut job but I began looking at it from another angle; he was a man living on his own terms and built this intense passion for life and was a warrior at heart. I saw a video of
Zach-Evan Esh
talking about his many conversations with warrior and who the man was, it got me thinking and it's awesome to find that even though a man had some inner demons still took the time to be apart of something that he felt was right to do. He truly was a warrior.
In the end, it made me learn that when you have an intense passion for something, it makes life that much grander. Here is my version of an Ultimate Warrior Quote:
"Do you call upon the gods to bring forth the strength and will of your soul? It is no doubt that the power of the warrior is fueled like a rocket blasting into the atmosphere of parts unknown. The power of the warrior is unbreakable that nothing can shatter its strength to withstand the mightiest of powers and you will feel the wrath of my will when my unbreakable spirit runs through the soul that you shall no longer have as The Power of the Warrior will live forever."
How's that for the proud warriors?