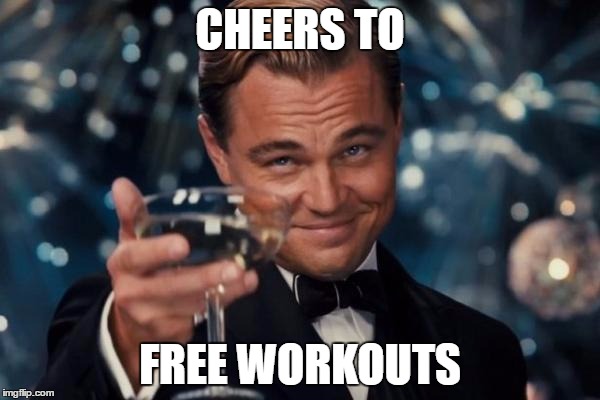 At
Advocare
, I don't just want people to order the products and that's that. Giving back something that will give customers that extra nudge to help motivate them to not only use the products but have ideas on what they can do for exercise to compliment the nutrition and ideal balanced eating programs that project a healthy lifestyle. When you can fit a workout regimen into your schedule, you don't want it to be super long and boring right? I mean come on people, exercise should be fun, exciting, challenging and full of adventure.
That's why exclusively at my
Advocare Store
, I want to give you a little something extra with your order. With any regular orders of products, you will receive complimentary workouts and a meal plan to help you reach your goals utilizing great motivational programs & help you get ahead in the game. I want to do something different and help you in simple ways to hand over training ideas that suit your schedule, your level of fitness and offer nutritional guidance that will put you on a positive path to a healthy lifestyle.
You are a customer and you're looking for suitable nutritional products that will aid in your program to lose weight or maintain it, build muscle, gain energy and recover with the best intentions so why not add in a little something extra that doesn't cost you a single penny? By doing so it could help you be motivated to develop a healthy body and challenge yourself with circuit workouts that can be done anywhere, anytime, have progression levels to see where your condition is at physically and having YOU deciding where you want to start. With your purchase, you're not just getting a product and a hardy thank you that has become a bit of a cliche' but getting something back with NO EXTRA CHARGE and get sent to you via email because I want YOU to get the best bang or your buck.
Here's the Ideal Plan of how you can get *FREE* Complimentary Workouts when you order personally through me:
24-Day Challenge Order
: Receive 3-5 Complimentary Workouts (Men or Women Routines) along with 3 Extra Meal Plans and a bonus 30-Day Workout Program you can use to help with your goals that have ready-for-you routines each day.
Preferred Customer
: As a bonus along with your starter kit & discount starting at 20% OFF, you'll get 3-5 Complimentary Workouts when you sign up and one meal plan. Each month afterwards, you'll receive a monthly workout. Reach 30% Discount and get a complimentary 30-Day Workout Program. Reach 90-Days with your 30% Discount and you'll receive a 90-Day Workout Program; 3 Full Months packed full of routines you can adjust to your fitness level.
Distributor
: As a bonus when you sign up along with your starter kit and your starting Discount at 20% OFF, you'll receive 10 Complimentary Workouts and all the meal plans you can use either for yourself or you can send to your own customers. Reach 40% Discount and you'll get additional workouts that include an entire Superhero Collection of routines for both men and women you can use either for yourself or send to your customers.
I have written this Ideal Plan on social media but never in complete detail and only on this blog it is the ACTUAL plan in its entirety. I'm not just looking just to make a business for myself and future distributors, I want to bring something unique to the table and give you resourceful entities that will bring you phenomenal results and help you and other customers give that little nudge of guidance and exciting workouts and meal plans that can aid your lifestyle and schedule. This is YOUR opportunity.